Advancing Business Education
IGNITE 2023
 Associates and Young Associates Welcome New to Asper Students!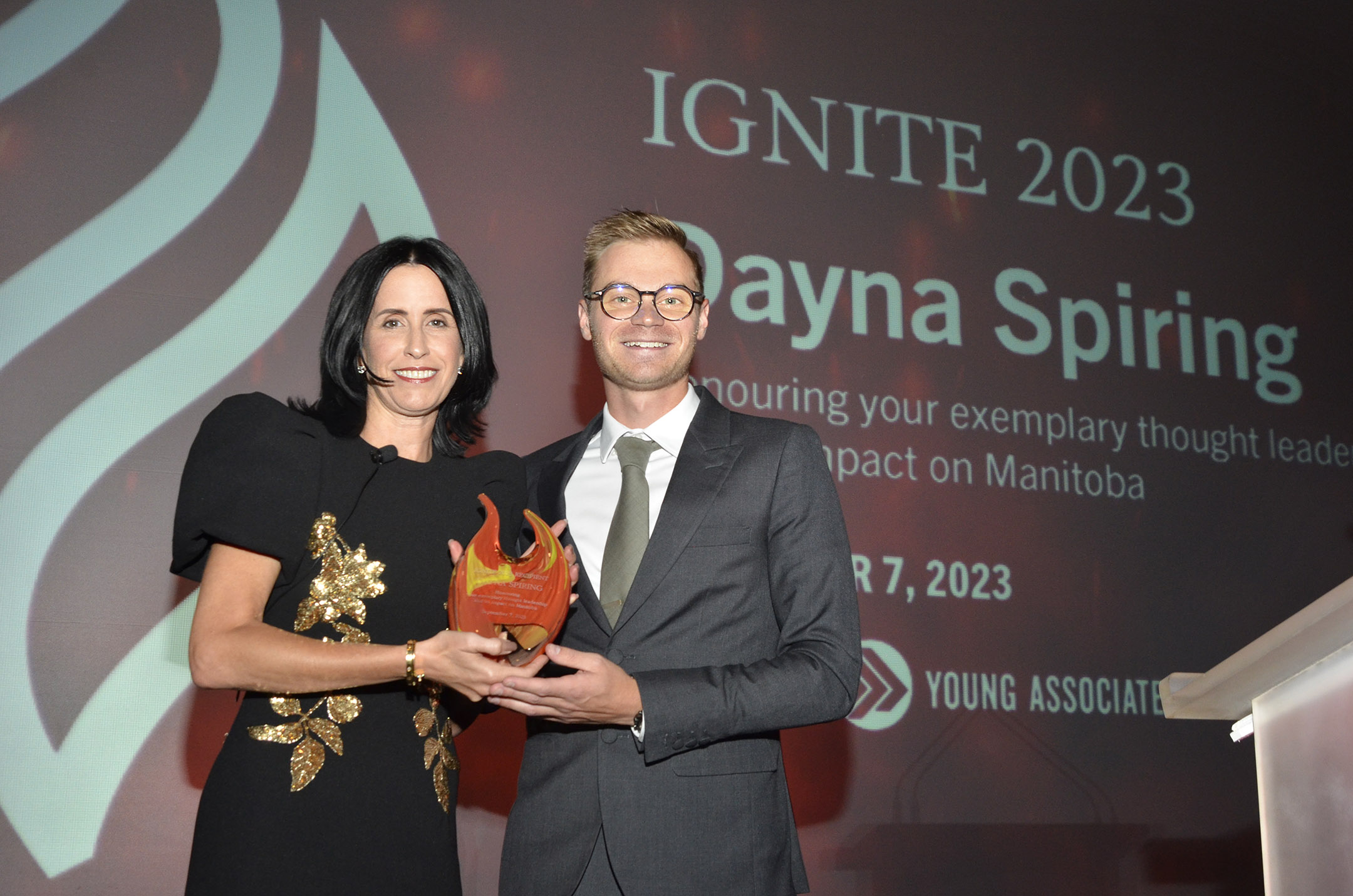 "We don't dream about what we haven't been exposed to."

Dayna Spiring, IGNITE 2023 Recipient
IGNITE 2023, held on September 7, 2023 was a resounding success and the perfect way for the new to Asper School of Business students to kick off this new school year. The triumphant return of the IGNITE award and gala dinner, provided the opportunity to celebrate a personal welcome from Manitoba's business leaders and to be inspired by the IGNITE 2023 recipient, Dayna Spiring. Her message, story and background provided inspiration of what is possible when you are "in the room where it happens", standing shoulder to shoulder and brave enough to just have a conversation. Her history revealed the possibilities when perseverance, hard work and passion come together! We know that her message resonated with all present.
Thank you to everyone who attended and supported IGNITE 2023! Thank you Dayna for your leadership and all that you do for our community. Thank you to our guests, sponsors, Young Associates, Associates, Asper students, faculty and staff, volunteers and the production team. A special thank you to our IGNTE 2023 committee.  What a truly have a remarkable team whose passion made IGNITE 2023 possible! It was delightful to once again be able to come together as a community to welcome our students, network, share a delicious meal and celebrate the accomplishments of our IGNITE Recipient.
We look forward to IGNITE 2024!
IDEA 2023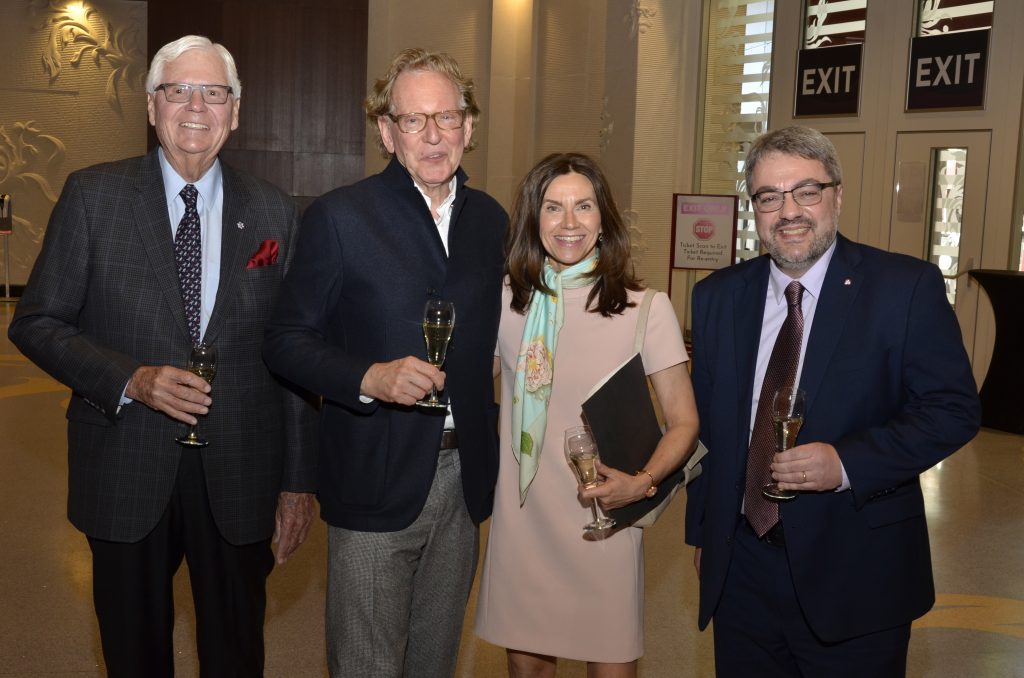 Arni Thorsteinson, Anthony von Mandl, Recipient, Denise Zaporzan and Dean Bruno Silvestre
On May 4, 2023, The Associates of the I. H. Asper School of Business were honoured to present the 2023 International Distinguished Entrepreneur Award to Anthony von Mandl, Founder, Owner, and CEO of The Mark Anthony Group of Companies.
As a pioneer of Canada's wine industry, Mr. von Mandl has grown a small import business into a group of companies that includes some of the world's most iconic beverage brands. Attendees gained insight into Mr. von Mandl's entrepreneurial mindset and learned how a true "Canadian Dream" came to fruition in the Okanagan Valley.
The IDEA Committee is extremely grateful for the support of 34 partners from across Canada. In addition, a special thank-you is extended to RBC, IDEA's longtime Platinum Partner, and Manitoba Liquor Marts, IDEA 2023's Diamond Partner.
For this year's IDEA, The Associates hosted an auction for a once-in-a-lifetime trip to experience the very best of the Okanagan Valley. The winner of the auction is Stu Clark (2012 IDEA Recipient) with a phenomenal final bid of $110,000. All funds raised will support the development of experiential learning opportunities for Asper School of Business students.
Thank you to all who were part of IDEA 2023! A special thank you to Anthony von Mandl for engaging with our community at our IDEA events, donating the exceptional auction trip, and leaving a lasting impact on our province.
The Associates of the Asper School of Business look forward to welcoming you to IDEA 2024 on May 30, 2024!
MEDIA RELEASE Pioneer of high-end organic winemaking, creator of iconic beverage brands, philanthropist, and successful Canadian business entrepreneur Anthony von Mandl announced as 2023 IDEA recipient DECEMBER 1, 2022 The Associates of the Asper School of Business at...
read more

Connections
The Associates are the leaders, the innovators, the entrepreneurs who advance the Manitoba economy. Since 1982, the Associates have been dedicated to the advancement of the business education at the I.H. Asper School of Business. Comprised of more than 300 senior executives, the Associates link the Asper School to the business community through mentorship, networking and philanthropy.

Future Leaders
Inspired by their mission statement: Learn, Connect, Give Back. Since 1993 the Young Associates have linked young professionals to the business community offering developmental and networking forums. It is Manitoba's premier network of young professionals connected to the I.H. Asper School of Business.

Inspiring Entrepreneurs
Awarded first in 1984, IDEA honours international entrepreneurial success. The recipients are presented with the iconic IDEA medallion which they receive at the Associates annual IDEA dinner. The Associates' tremendous efforts and influence ensures IDEA achieves increasing success by celebrating extraordinary recipients. IDEA generates international awareness and notoriety to the I.H. Asper School of Business and the entire University of Manitoba and serve as an inspiration for students and community.