Each year, The Associates proudly supports deserving Asper faculty through the Associates Achievement Awards. Five leading faculty members are presented with the $5,000 awards in recognition of outstanding contributions to teaching, research, and engagement. By sponsoring these awards, The Associates encourage professors to strive for excellence in their work and hope to contribute to attracting world-class faculty to the Asper School of Business.
This year, we were once again amazed with the accomplishments of Asper faculty. From establishing innovative new classes to being published in prestigious journals, the award recipients have demonstrated that business education and research have a bright future in Manitoba.
Congratulations to (pictured from top right) Sean MacDonald, Mingzhi Liu, Sandeep Arora, Raj Manchanda, and Ying Zhang.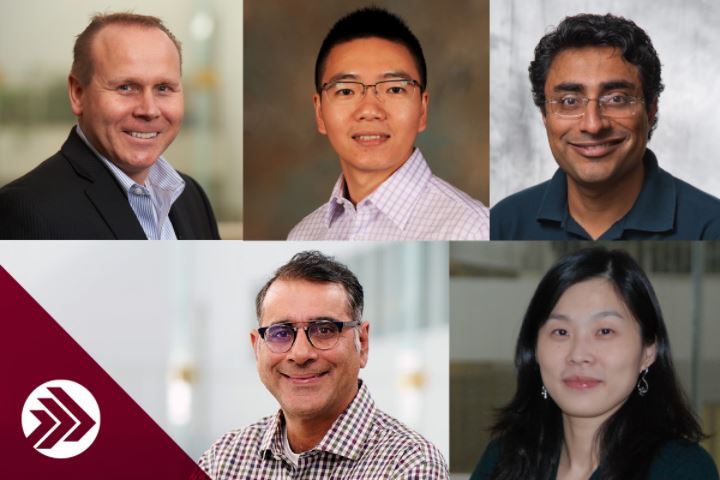 View Faculty and Student Awards
JDC West 2021 Partner Spotlight – The Associates – With YA Host Joshua Zaporzan, and Associates panel with Lisa Cefali, Mariette Mulaire, and John Proven.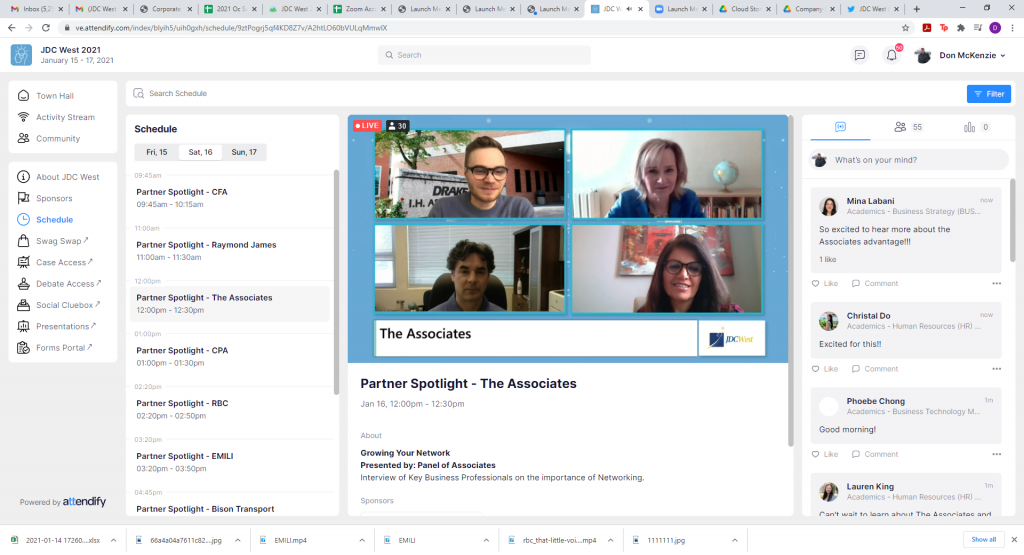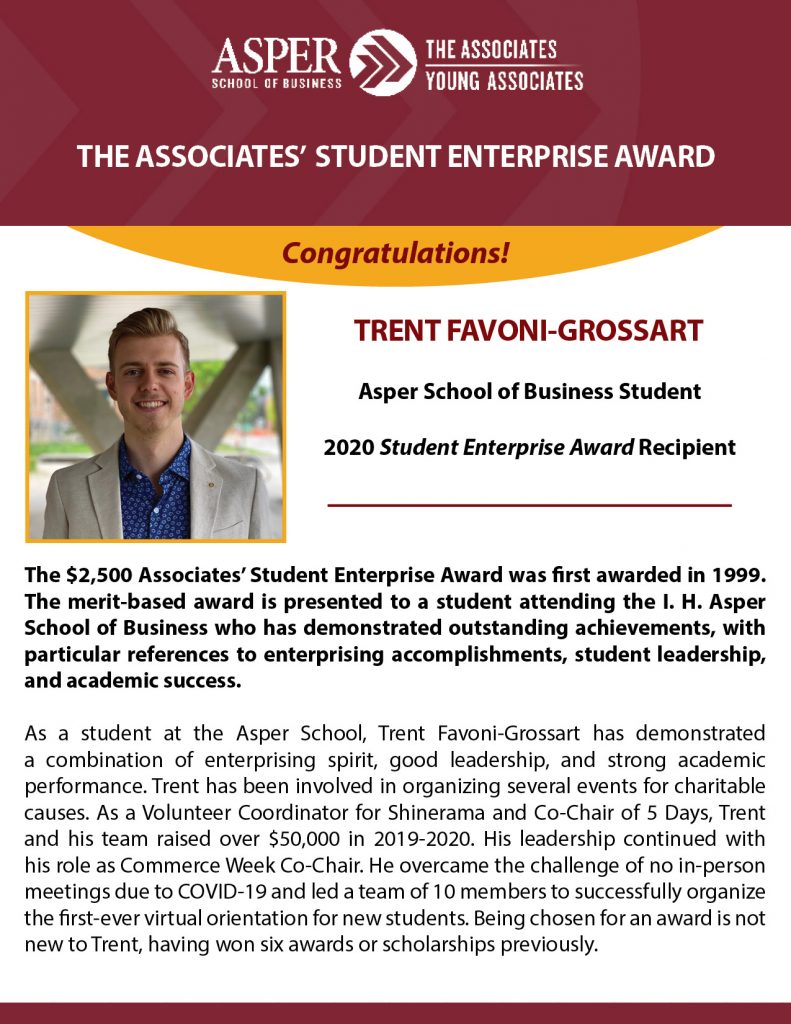 The Associates, through our University of Manitoba Business School Foundation, has donated $50,000 towards a fund for bursaries for Asper students suddenly affected by COVID-19.
The donation will support undergraduate Asper students who have lost their co-op job placements or those who have lost current part-time or summer positions due to COVID-19. Most of these students have no other financial options.
Please find President Barnard's Thank You letter to The Associates here.
The Associates of the I. H. Asper School of business ensure that Asper students are receiving an exceptional, varied education leading to their development as industry leaders. Students and faculty benefit from the wide range of activities and resources offered through the Associates' generosity, including competitions, mentorship, professional development and awards.
View Faculty and Student Awards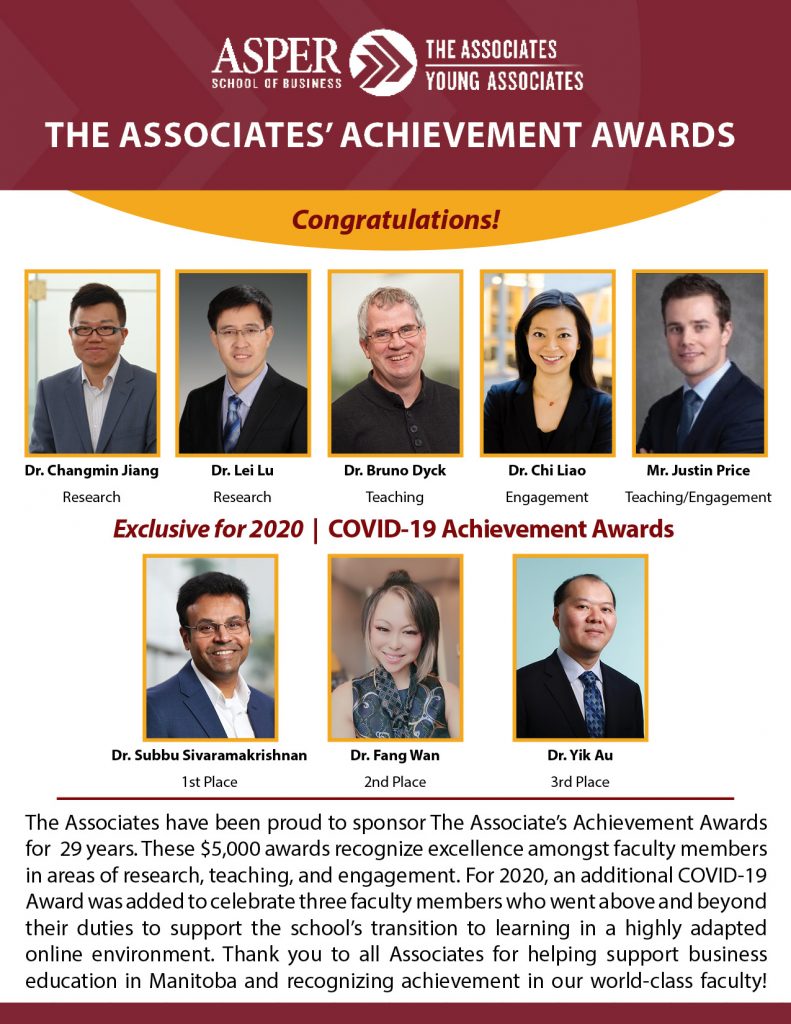 Bachelor of Commerce First-Year Dinner
The annual Bachelor of Commerce First-Year Reception marked its 10th anniversary with a dinner at the Fairmont Hotel, welcoming 300 new students to the Asper School of Business. As in previous years, students were seated with at least one Associate member, a student leader and a member of faculty or staff. The dinner provided a warm and celebratory welcome to the new students who experienced the immediate benefit of meeting their peers and mentors in a casual setting outside of the classroom environment.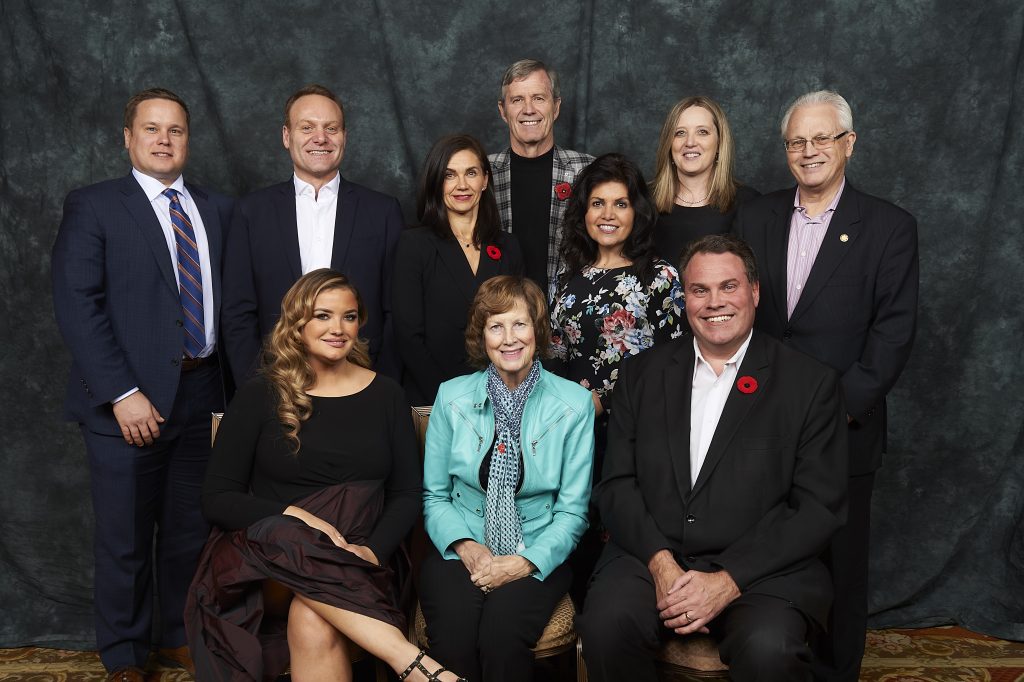 Visionary Indigenous Business Excellence Awards
Associates support VIBE Awards, pictured here with the 2019 VIBE Award Recipient, Angie Zachary.
Stu Clark Investment Competition
The Stu Clark New Venture Championships: Graduate Edition (previously Stu Clark Investment Competition) is the SCCE's premier competition and represents a prestigious, international academic opportunity designed to mimic the real world process of starting a new venture while rewarding innovative thinking and entrepreneurial spirit. The competition is for graduate students to gain real experience while developing and growing new ventures based on the student created, managed or owned ventures. Throughout this 2-day competition teams will compete in an Elevator Pitch, Logo Pitch and Business Plan Presentation for more than $60, 000 prize money and will evaluate the feasibility, market opportunity and business model of a new venture.
JDC West Team Toba
JDC West is the largest student-run business competition in Western Canada, attracting teams from twelve universities every year. It is an annual highlight for Asper students, who represent the school as Team Toba. The three-day event involves academics, athletic challenges, debate, a social competition, and a charity drive. Students are required to express the attributes required in leadership.
CSA Business Banquet
The Commerce Students' Association has hosted the annual Business Banquet for over fifty years, bringing together students and corporate representatives who are seated together for the dinner and guest speaker. Each year, the Associates sponsors tables where students can sit with members and learn about their business experience and network with Manitoba's top business leaders.
Student Groups and Associations
Asper MBA Student Association (aMBAsa)
Asper School of Business Accounting Association (ASBAA)
Asper Students' Co-op Association (ASCA)
Association of International Management Students (AIMS)
Beta Gamma Sigma (BGS)
Collegiate Entrepreneurs' Organization (CEO)
International Association of Students in Economic and Commercial Sciences (AIESEC) – Management Information Systems Association (MISA)
University of Manitoba Actuarial Club (UMAC)
University of Manitoba Finance Organization (UMFO)
University of Manitoba Human Resource Association (UMHRA)
University of Manitoba Indigenous Commerce Students (UMICS)
University of Manitoba Investment Group (UMIG)
University of Manitoba Marketing Association (UMMA)
University of Manitoba Supply Chain Organization (UMSCO)
Career Development Centre
Through the support of the Associates, the Career Development Centre (CDC) offers students a range of professional development activities.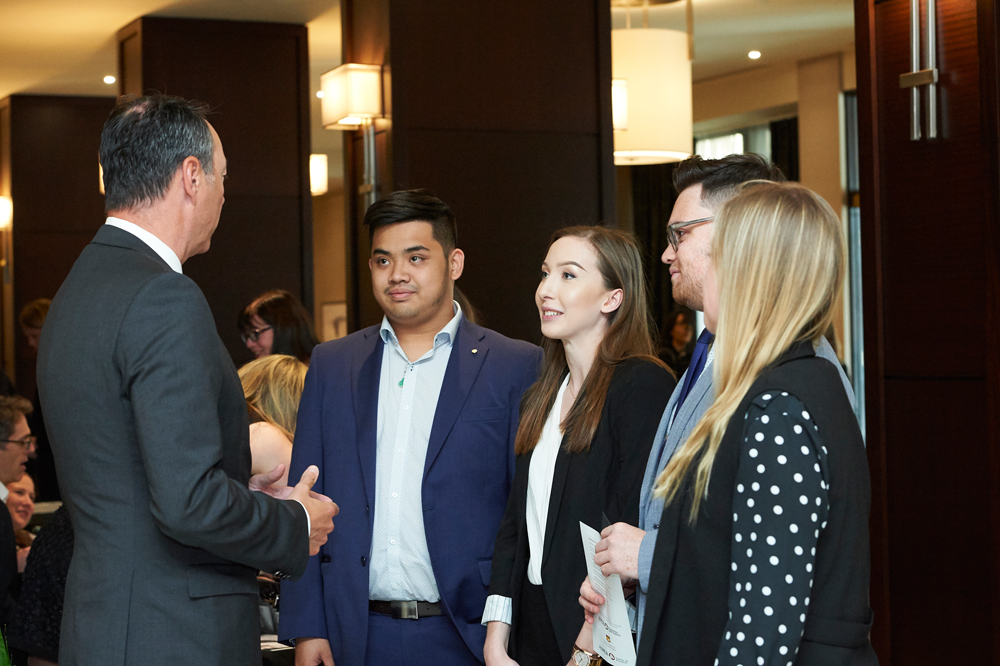 Capital Projects
With the Associates support, the student groups and associations have a prominent display case proudly exhibiting the achievements of the school. This beautiful new addition shares the stories of past generations in a central location on the first floor of the Drake Centre. Most of these awards were previously featured in a smaller display on the main floor at the Asper School, and have been moved to the first floor. At the location of the previous main floor display, a state of the art digital display wall has been completed, honouring past IDEA recipients and announcing Associates and Young Associates events. The improvement will enhance the main (second) floor and inspire business students through the accomplishment of these compelling and successful leaders.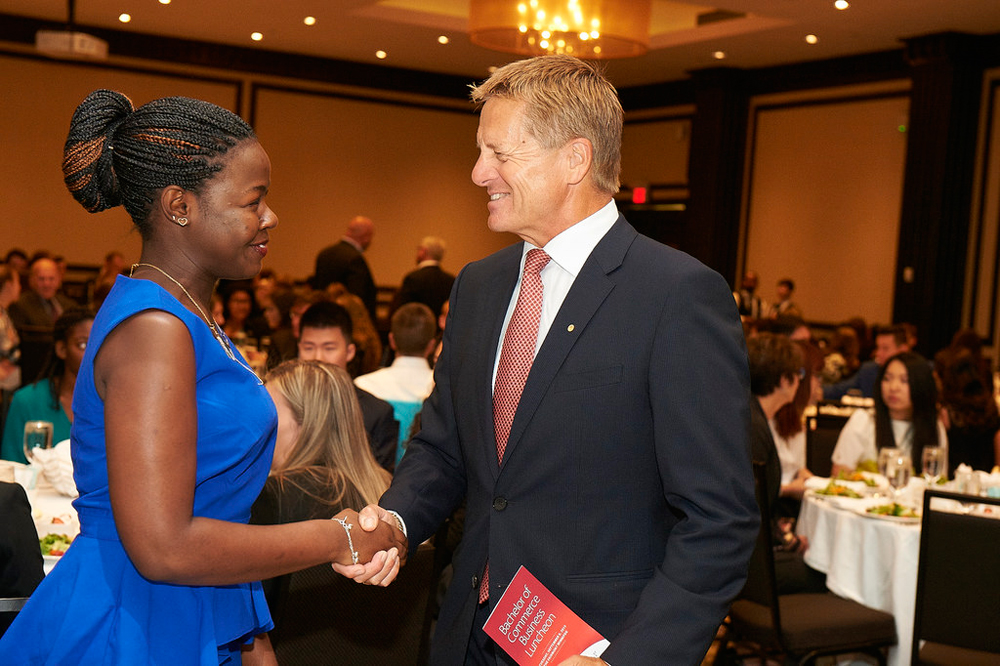 Associates Executives-in-Residence
Students, faculty, and members of the community benefit from interaction with our three Executives-in-Residence, all successful business leaders who have established and proven experience in public and private sectors. The Executives-in-Residence offer public presentations, lectures, and mentorship opportunities to provide an immersive learning experience. The meaningful contribution made by the Asper School's Executives-in-Residence cannot be overstated, as they share a unique depth of knowledge and real life experience complementary to classroom learning.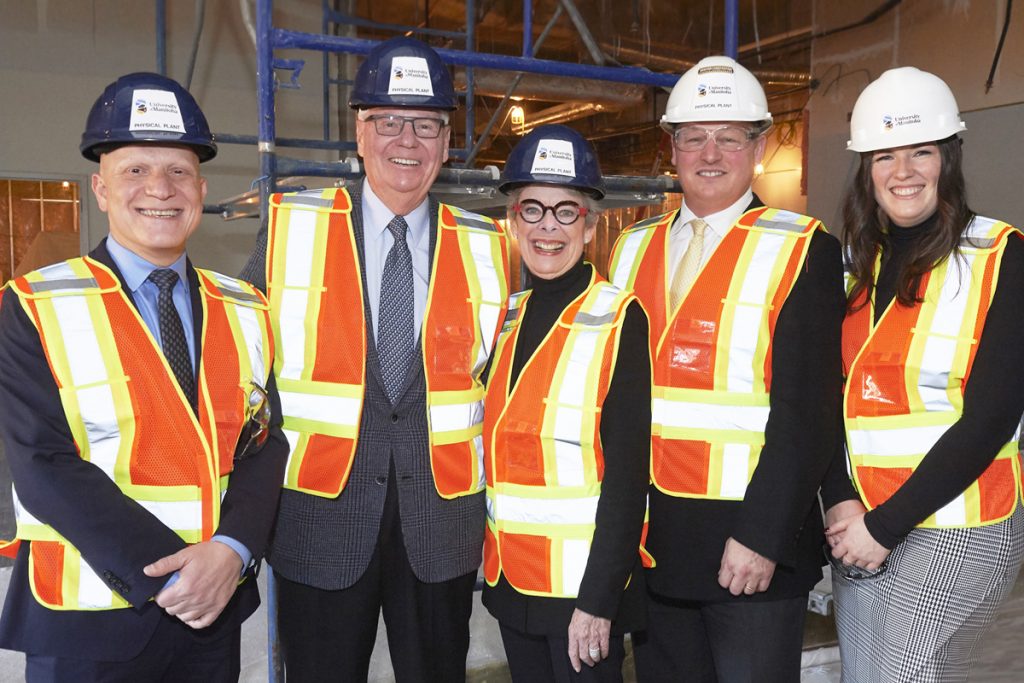 Significant renovations are underway in the Stu Clark Graduate School at the I.H. Asper School of Business thanks in part to a $1 million gift from Dr. Arni Thorsteinson and Dr. Susan Glass, both UM honorary degree recipients and alumni.
On November 22, 2019 in recognition of their transformative donation to the Front and Centre campaign, which is supporting renovations on the fifth floor of the Drake Centre, the building's student centre has been officially named the "Arni Thorsteinson and Susan Glass Student Commons."
"Drs. Thorsteinson and Glass are influential philanthropic leaders in the Winnipeg community and great friends of the University of Manitoba and the Asper School of Business. Their generosity over the years has had a profound impact on the lives of our students," says Dr. Gady Jacoby, Dean and CPA Manitoba Chair in Business Leadership, Asper School of Business.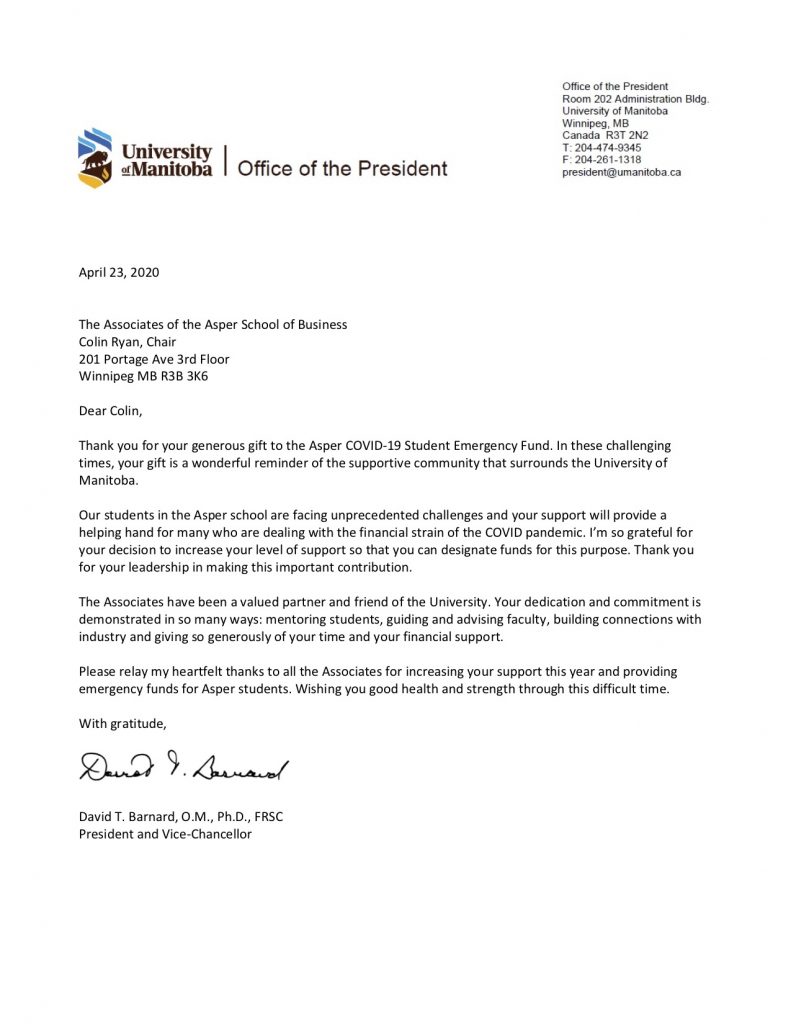 The Associates are proud to have helped the University and in particular the Asper School of Business in offering a significant contribution to Emergency Bursaries for students.
It is through your continuous support as an Associate that we are able to offer this unparalleled support during the COVID-19 crisis.
Thank you to our Board of Directors and the leadership team who, when called to action, were able to respond and deliver in a matter of days! We truly have leaders advancing business education in both the best of times and the challenging times.