The Associates of the I. H. Asper School of business ensure that Asper students are receiving an exceptional, varied education leading to their development as industry leaders. Students and faculty benefit from the wide range of activities and resources offered through the Associates' generosity, including competitions, mentorship, professional development and awards.
View Faculty and Student Awards
Bachelor of Commerce First-Year Dinner
The annual Bachelor of Commerce First-Year Reception marked its 10th anniversary with a dinner at the Fairmont Hotel, welcoming 300 new students to the Asper School of Business. As in previous years, students were seated with at least one Associate member, a student leader and a member of faculty or staff. The dinner provided a warm and celebratory welcome to the new students who experienced the immediate benefit of meeting their peers and mentors in a casual setting outside of the classroom environment.
Stu Clark Investment Competition
The Stu Clark New Venture Championships: Graduate Edition (previously Stu Clark Investment Competition) is the SCCE's premier competition and represents a prestigious, international academic opportunity designed to mimic the real world process of starting a new venture while rewarding innovative thinking and entrepreneurial spirit. The competition is for graduate students to gain real experience while developing and growing new ventures based on the student created, managed or owned ventures. Throughout this 2-day competition teams will compete in an Elevator Pitch, Logo Pitch and Business Plan Presentation for more than $60, 000 prize money and will evaluate the feasibility, market opportunity and business model of a new venture.
JDC West Team Toba
JDC West is the largest student-run business competition in Western Canada, attracting teams from twelve universities every year. It is an annual highlight for Asper students, who represent the school as Team Toba. The three-day event involves academics, athletic challenges, debate, a social competition, and a charity drive. Students are required to express the attributes required in leadership.
CSA Business Banquet
The Commerce Students' Association has hosted the annual Business Banquet for over fifty years, bringing together students and corporate representatives who are seated together for the dinner and guest speaker. Each year, the Associates sponsors tables where students can sit with members and learn about their business experience and network with Manitoba's top business leaders.
Student Groups and Associations
Asper MBA Student Association (aMBAsa)
Asper School of Business Accounting Association (ASBAA)
Asper Students' Co-op Association (ASCA)
Association of International Management Students (AIMS)
Beta Gamma Sigma (BGS)
Collegiate Entrepreneurs' Organization (CEO)
International Association of Students in Economic and Commercial Sciences (AIESEC) – Management Information Systems Association (MISA)
University of Manitoba Actuarial Club (UMAC)
University of Manitoba Finance Organization (UMFO)
University of Manitoba Human Resource Association (UMHRA)
University of Manitoba Indigenous Commerce Students (UMICS)
University of Manitoba Investment Group (UMIG)
University of Manitoba Marketing Association (UMMA)
University of Manitoba Supply Chain Organization (UMSCO)
Career Development Centre
Through the support of the Associates, the Career Development Centre (CDC) offers students a range of professional development activities.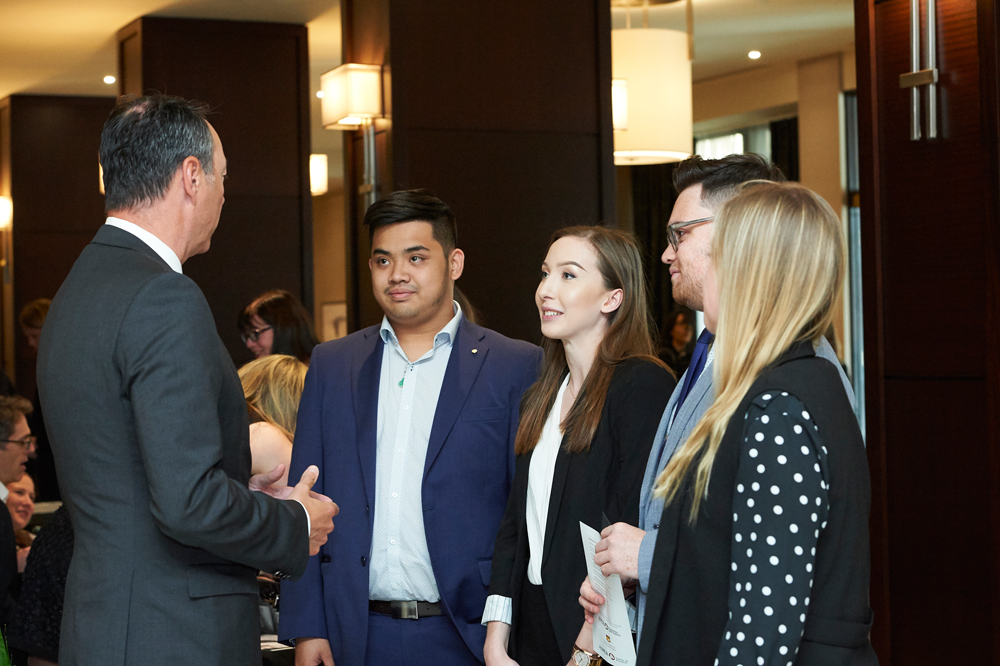 Capital Projects
With the Associates support, the student groups and associations have a prominent display case proudly exhibiting the achievements of the school. This beautiful new addition shares the stories of past generations in a central location on the first floor of the Drake Centre. Most of these awards were previously featured in a smaller display on the main floor at the Asper School, and have been moved to the first floor. At the location of the previous main floor display, a state of the art digital display wall has been completed, honouring past IDEA recipients and announcing Associates and Young Associates events. The improvement will enhance the main (second) floor and inspire business students through the accomplishment of these compelling and successful leaders.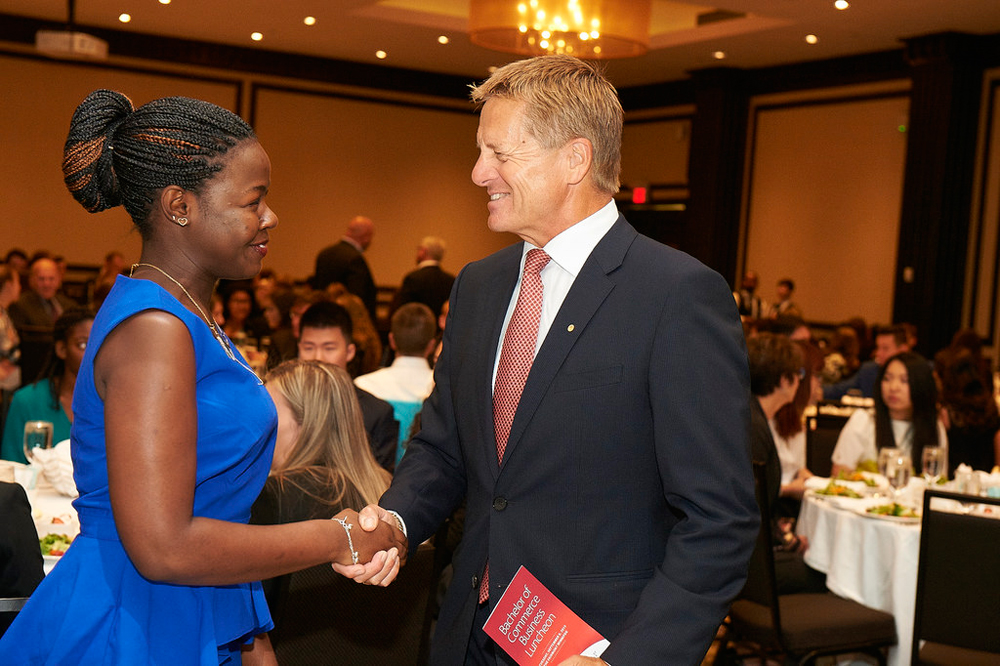 Associates Executives-in-Residence
Students, faculty, and members of the community benefit from interaction with our three Executives-in-Residence, all successful business leaders who have established and proven experience in public and private sectors. The Executives-in-Residence offer public presentations, lectures, and mentorship opportunities to provide an immersive learning experience. The meaningful contribution made by the Asper School's Executives-in-Residence cannot be overstated, as they share a unique depth of knowledge and real life experience complementary to classroom learning.