Manitoba's Premier Business Network
The Associates are senior-level executives and leaders who share the Asper School of Business' commitment to excellence in management education, and represent a spectrum of industries and backgrounds. Over the past 39 years, the School has evolved to meet the needs of the local and national business community with the help of the Associates through their advisement, philanthropic contribution, mentoring, and many other types of involvement.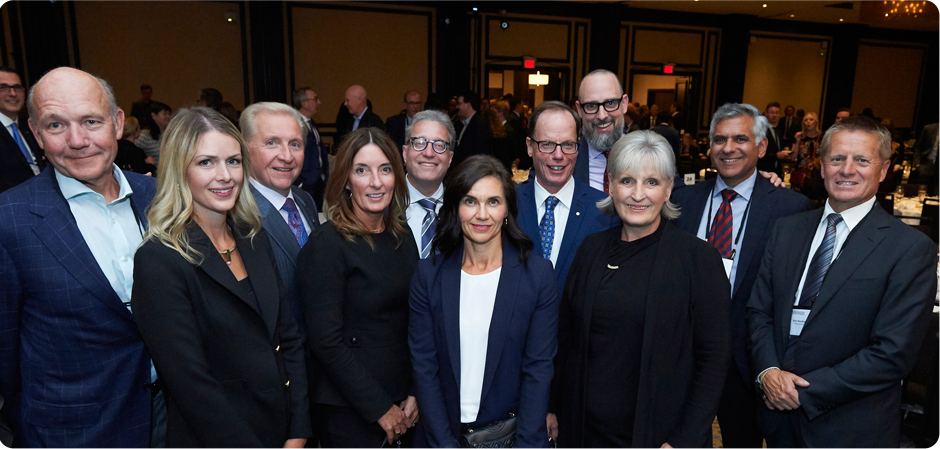 The Associates Advantage
Network with more than 300 Manitoba business leaders.
Attend seminars by some of the world's leading thinkers, offering insight into business, politics, and current events.
Access faculty members and cutting-edge research at one of Canada's leading business schools.
Connect with students through mentorship, internship, in-class and award presentations, and competition judging.
Get a behind-the-scenes look at Manitoba businesses and community initiatives.
Champion education at the I.H. Asper School of Business; membership fees support students, research, and facilities (and include charitable tax receipts).
Attend IDEA, our flagship event that recognizes excellence in entrepreneurship and supports the Asper School.
Serve on the Board of Directors or on several committees within the organization.
Help to shape Manitoba's next leaders through the Young Associates.
Dues & Membership
The cost of membership is $1300 annually. A $1075 charitable donation receipt and a $225 event attendance entitlement receipt are issued with the payment.
All Associates events and programs are complimentary, there is no additional cost to attend with the exception of the IDEA dinner which is a ticketed event.
Since 1982, all new members also receive an official welcome with an initiation certificate signed by the Dean and the Chair.
Download Membership Application
Associates Transition Membership
The Young Associates is designed for professionals under 40 years of age.  The Associates offers a Transition Membership that is open to applications from current Young Associates. Transition Memberships are granted to Young Associates nearing the end of their YA eligibility who meet the Associates' requirements for demonstrated community commitment and  executive or leadership workplace roles. The three year transition period allows the member to gradually enter the Associates with access to both organizations' events, increased school engagement opportunities, and initially reduced membership pricing.
 The Associates Transition Membership fee structure and access to membership benefits are as follows:
Year One: $500 – Initial transition year with access to all YA and Associates events and programs ($150 charitable tax receipt)
Year Two: $800 – Second year of dual membership with access to all YA and Associates events and programs ($425 charitable tax receipt)
Year Three: $1,300 – Full member of the Associates, no longer a YA ($1075 charitable tax receipt)
Become An Associate
Throughout the year The Associates host membership information Luncheons/Dinners held at the Manitoba Club. Upcoming ones will take place on:
Stay tuned for upcoming luncheons and dinners in the fall 2022
To learn more about the Associates membership, please contact AnnaMaria Toppazzini, CEO of the Business School Foundation by email at ceo@associatesmb.ca or by phone at 204.981.4880.
Manitoba's Premier Business Network
Leaders Advancing Business Education

The Associates are comprised of over 300 senior executives from various backgrounds, representing the diverse sectors in Manitoba including private, public and non-for profit senior leaders. A complete listing of Associates is available in the Membership Directory.
The Associates are a committed group of business leaders who believe in supporting business education and supporting our future leaders. Their commitment and to the school is evidenced by their long term membership with the Associates. We take great pride in the Associates commitment and every year at the Annual General Meeting held in the fall, we honour and celebrate members who have milestone anniversaries and welcome first year members.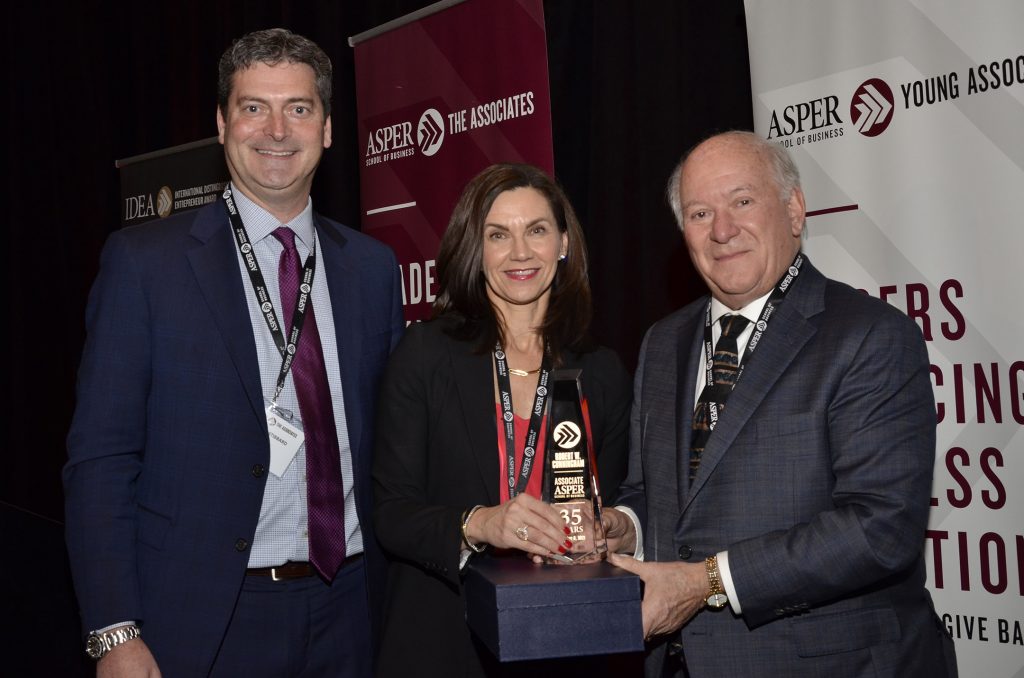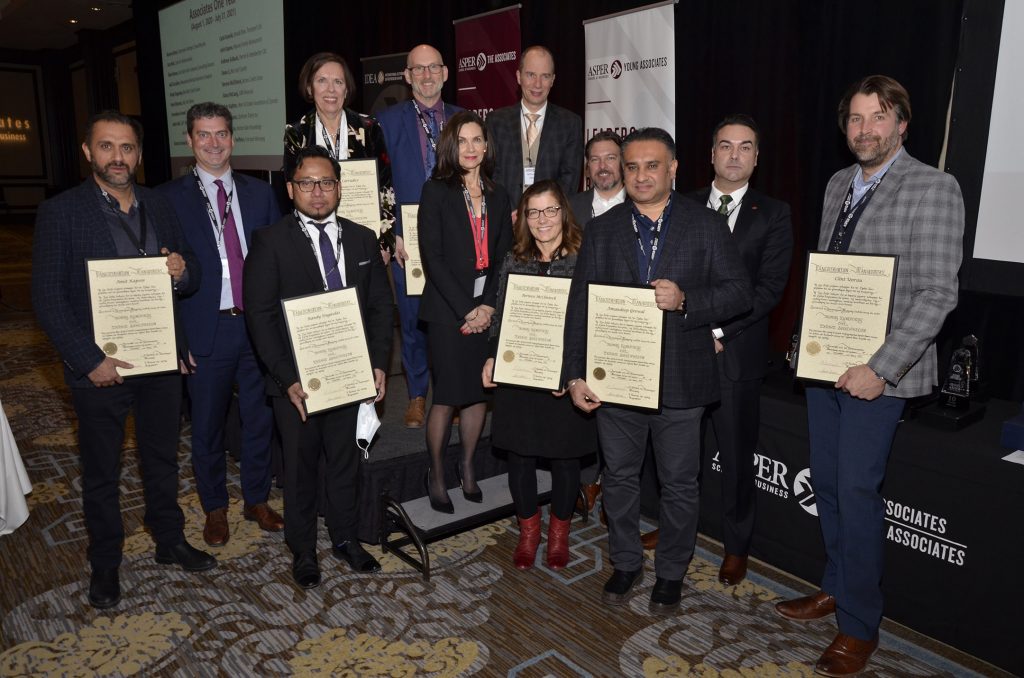 Founding Associates
Archie Arnott
Sheldon Berney
Richard Bracken
Robert Chipman
Norman Coghlan
Albert Cohen
John Fraser
Frederic Gaspard
Kerry Hawkins
Paull Hill
Serena Kraayeveld
Lawrence Pollard
Gerry Price
Donald Reimer
Hartley Richardson
George Richardson
Richard Riess
Gary Steiman
Arni Thorsteinson
Marvin Tiller
Associates 36+ Years
Richard Bracken, Royal Canadian Properties Limited
Paull Hill, Harvard Developments Inc. – A Hill Company
Gerry Price, Price Industries Limited
Donald Reimer, Reimer World Corp
Hartley Richardson, James Richardson & Sons, Limited
Richard Riess, GHY International/ Geo. H Young & Co. Ltd
Arni Thorsteinson, Shelter Canadian Properties Limited
35 Years
Robert Cunningham, Cunningham Business Interiors Ltd.
30 Years
David Johnston, Johnston Group Inc.
Nicholas Logan, Logan Point Investments

Gordon Webster

Donald Whitmore, Vector Construction Ltd.
20 Years
Ida Albo, The Fort Garry
William Fast, M&W Holdings
Derek Johannson, Carlyle Printers, Service & Supplies Ltd.

Garth Manness, Credit Union Central of Manitoba

James B. Pitblado

Graeme Rowswell, GT Rowswell Realty Leasing Co.

Larry Schmidt, Cogmation Robotics Inc.
Robert Vanderhooft, TD Asset Management Inc.
10 Years
Hardev Bains, Lionridge Capital Management Inc.
James Cohen, Gendis Inc.
Graham Davis, Manitoba Club
Silvia de Sousa, Thompson Dorfman Sweatman LLP
Marc Filiba, BMO Nesbitt Burns
Karen Fonseth, DASCH Inc.
Diane Gray, CentrePort Canada Inc.
Sean Lawton, Lawton Partners Financial
Ash Modha, Mondetta Clothing Company
Howard Morry, Pitblado LLP
Brad Peacock, Megill-Stephenson Company Ltd.
Calvin Polet, Neptune Properties Inc.
Robert Scaletta, Shindico
Terry Snell, Lawton Partners Financial Planning Services Ltd.
Larry Wandowich, RM of Rosser
Denise Zaporzan, Asteria Global Inc.