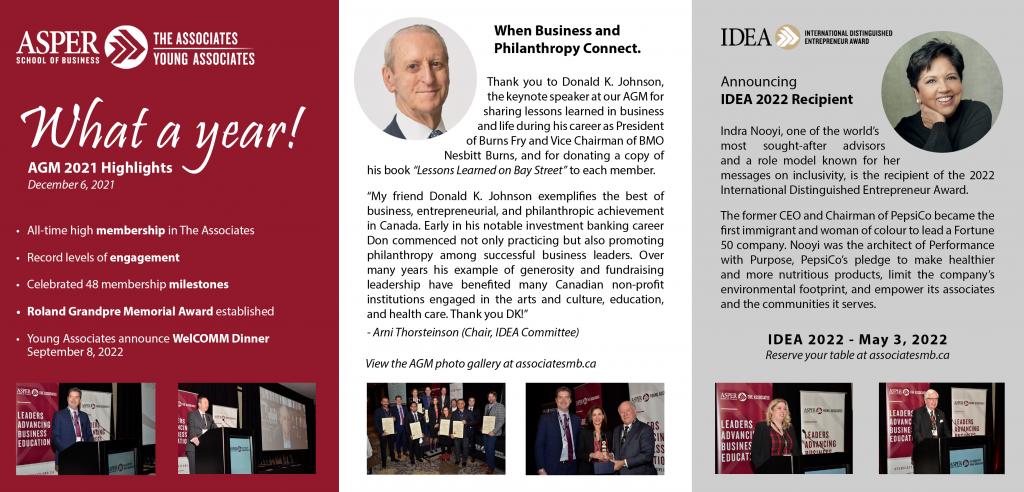 2021 Annual General Meeting
The Associates and Young Associates of the I. H. Asper School of Business gathered on December 6, 2021 for the University of Manitoba Business School Foundation's 39th Annual General Meeting. Attendees joined both in-person at the Fairmont Winnipeg for a gala dinner and online via webcast. Special guest Donald K. Johnson (former President of Burns Fry and Vice Chair of BMO Nesbitt Burns) provided a keynote address, sharing his wisdom and advice with those in attendance.
"My friend Donald K. Johnson exemplifies the best of business, entrepreneurial, and philanthropic achievement in Canada. Early in his notable investment banking career Don commenced not only practicing but also promoting philanthropy among successful business leaders. Over many years his example of generosity and fundraising leadership have benefited many Canadian non-profit institutions engaged in the arts and culture, education, and health care. Thank you DK!"
– Arni Thorsteinson (Chair, IDEA Committee)
Making a Difference
Despite the challenges faced by the business community in the last year, Associates and Young Associates reached record levels of engagement with the Asper School of Business. Members volunteered as guest speakers in classrooms, adjudicators at competitions, keynote presenters at events, and both undergraduate and graduate student mentors.
Notably, financial support for the school was also maintained throughout the pandemic. In honour of The Associates' late founding Dean, members created and funded the new Roland Grandpre Memorial Award. This permanent fund will add to The Associate's existing support for student and faculty awards and scholarships, student programming, and school upgrades. The Associates also recently welcomed Manitoba-raised Dr. Ernest Rady (Founder, President, and CEO of American Assets Trust) back to Winnipeg to be honoured with both the Order of Manitoba and the 2021 International Distinguished Entrepreneur Award. The award dinner was a resounding success, bringing Manitoba's business leaders together and raising funds to support the I.H. Asper School of Business.
Securing the Future
It was announced at the Annual General Meeting that Indra Nooyi, Former Chairman and CEO of PepsiCo, will receive the 2022 International Distinguished Entrepreneur Award on May 3, 2022 at the RBC Convention Centre in Winnipeg. Partnership opportunities and gala tickets are now available by contacting The Associates' office.
The Young Associates also announced the introduction of the WelCOMM Dinner, an annual event that will bring together Bachelor of Commerce students and the local business community to welcome new students to the school and celebrate a different Manitoba leader each year. The first edition of the event, with the honouree yet to be announced, will take place on September 8, 2022 at the RBC Convention Centre in Winnipeg.
Bringing Together Manitoba's Business Leaders
The Associates and Young Associates look forward to continuing to bring together Manitoba's business community at numerous member and school events to connect, learn, and advance business education. Membership in The Associates is at an all-time high, with more than 300 members, and the organization looks forward to welcoming more leaders in the year ahead.
In addition to many new members, the Annual General Meeting was also an opportunity to celebrate many members reaching impressive membership milestones. Ida Albo, William Fast, Derek Johannson, Garth Manness, James B. Pitblado, Graeme Rowswell, Larry Schmidt, and Robert Vanderhooft commemorated their 20th year as Associates. David Johnston, Nicholas Logan, Gordon Webster, and Donald Whitmore celebrated the 30th anniversary of their memberships. The highest membership milestone award was presented to Robert W. Cunningham, who has been an Associate for 35 years.
Reflecting on the previous year, it is clear that The Associates profoundly impacted Manitoba's business community and have plenty to look forward to in the year ahead.
"Over the last 39 years, The University of Manitoba Business School Foundation has created a legacy that builds a brighter future for Manitobans. Thank you to our members, partners, and team who have grown us to where we are today, and thank you to Manitoba's business community for committing to propel us to new heights in the times ahead."
– Andrew Stibbard (Chair, The Associates)
Past AGM Speakers
Michael Benarroch, University of Manitoba (2020)
Goldy Hyder, Business Council of Canada (2019)
Peter B. Gustavson, EncoreFX Inc. (2018)
Randy Ambrosie, CFL Commissioner (2017)
John Manley, Business Council Canada (2016)
Hon. Gary Doer, Government of Canada (2015)
Perrin Beatty, Canadian Chamber of Commerce (2013)
Daniel Bubis, Tetrem Capital Management (2012)
Mogens Smed, DIRTT Environmental Solutions (2011)
Amanda Lang, CBC News (2010)
Gregg Saretsky, WestJet (2009)
Calin Rovinescu, Air Canada (2008)
Diane Francis, National Post (2007)
Annual General Meeting
The University of Manitoba Business School Foundation's Annual General Meeting is a yearly event hosted by The Associates of the Asper School of Business and open to all Associates, Young Associates and select faculty and staff of the Asper School of Business.
The AGM includes a dinner where a prominent leader of the local business community will be asked to give a presentation on their business experience and industry. The dinner is also a way for The Associates to recognize their first-year members, along with Associates who have been members for 10, 20, 25, 30, and 35 years. First-year members are presented with a plaque signed by the Dean of the Asper School of Business and the President of the University of Manitoba. Milestone members receive a customized gift.