Dear Associates,
As we move towards summer, there is significant progress to report on a variety of activities being undertaken by the Associates, Young Associates, IDEA, and the University of Manitoba Business School Foundation.
I must thank all of the Associates who are engaged throughout the year at the multitude of events and opportunities, as well as to those who give their time to the Asper School by volunteering to speak with students and engage them on a number of initiatives. We hear regularly from Dean Gady Jacoby and the students how valuable our engagement in the school is.
Thank you as well to all who volunteer on the Board and Committees for the work completed throughout the year. Without your support none of this would be possible, I have listed our board at the end of this communication. It is a group of very engaged and passionate supporters of the Asper School.
The 36th IDEA was held at the end of May and it was an unparalleled success, with a record number of 1505 guests and 62 partners! We beat all records and had a most humble and gracious recipient in our own Hartley Richardson. Big congratulations to Arni Thorsteinson and his committee as well as our CEO, AnnaMaria Toppazzini and her staff for putting on an amazing event. Thank you to all our members who supported the event in unprecedented manner.
For your viewing pleasure, I am also pleased to provide you with two videos of IDEA. The first is of the speeches and award presentation, and the second is the IDEA All-Star Band featuring James Cohen, Peter Jessiman, Mark Chipman, Ron Paley, and lead vocalist of Jefferson Starship and close friend of Hartley, Mickey Thomas. Be sure to watch it until the end to see Hartley join the band to sing "We Built This City".
https://www.youtube.com/watch?v=NJSrUCUEVBw
https://www.youtube.com/watch?v=Nk14JDj_rzo
Please feel free to visit our website to see photos from the night as well;
https://associatesmb.ca/idea/gallery/
Our calendar has been and continues to be busy, we have had a total of 40 Associates events (plus the YA has had 50 events) so far this year with more planned! We are also pleased to announce that we have had 34 new Associates join and I have also listed them at the end of this note. On behalf of Howard Morry and the member engagement committee I would encourage you to please take a moment to look at the list and introduce yourself to them at the next event. The updated 2019 Membership Directory is available online now (click to view) or by logging in to the website under Members Only documents. 
I also thought you might like to see a breakdown of our membership composition, I have included it at the end of this letter. We are working to increase the diversity and gender balance of our membership base and I am pleased to note that Denise Zaporzan and her recruitment committee are doing a great job on this front.
There are numerous developments at the Asper School, too many to mention in this note, but a few highlights include:
Shona Grewar, the CSA President for 2018-19 was awarded the Business Students' Association President of the Year Award.
The Asper MBA Case team won the Haskayne Ivey East meets West MBA Case competition, beating Ivey in a head to head competition.
In mid-April, 27 successful candidates from across The University of Manitoba (including Asper), Red River College, University of Winnipeg and University College of the North were announced as the first cohort of the President's Student Leadership Program offered by the Asper School's James W. Burns Leadership Institute.
The Stu Clark Centre for Entrepreneurship hosted three successful competitions this spring and is supporting the launch of a new "introduction to entrepreneurship" course that starting this fall will be a mandatory course for all Commerce Students.
Stu Clark, an esteemed alumnus and entrepreneur, has donated $10 million to the I.H. Asper School of Business at the University of Manitoba. In recognition of this gift, the university is establishing the Stu Clark Graduate School at the I.H. Asper School of Business.
"I believe very strongly in the vision and direction the Asper School, and the University of Manitoba, have taken towards sparking students' entrepreneurial spirit," says Stu Clark, [B.Comm(Hons.)/76] and honorary degree recipient. "Supporting our future leaders, and bolstering their potential, is the best investment you can make."
This latest gift elevates all graduate programs in the Asper School of Business, supporting innovative graduate student research in emerging areas such as behavioral finance, and bolstering scholarships to unprecedented levels.
One of the U of M's most generous donors, Stu Clark's lifetime support of the I.H. Asper School of Business totals $19.3 million. Clark's generosity helped the U of M open the Stu Clark Centre for Entrepreneurship in 2008, and fund an endowed chair within it.
We look forward to seeing you at our first event for the 2019-2020 year, the First Year Dinner which takes place September 4, at the RBC Convention Centre. It is one of our best attended events and always a special event where we get to interact with students entering their first year at the Asper School.
Expect 2019-2020 year to be an exciting period for growth with the Associates, Young Associates, and the Asper School of Business. We welcome your ideas and recommendations. Please feel free to contact myself directly or the office at 204.474.6201 or come visit AnnaMaria and her team in Room 547 Drake Centre, 5th Floor, Asper School of Business.
Thank you again for all your support and involvement in the Asper School.
Have a great summer!
Sincerely,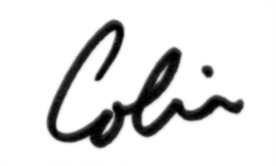 Colin Ryan, CFA, ICD.D
Chair, The Associates
Senior Vice-President | Managing Director | Portfolio Manager
BMO Nesbitt Burns